Harvey is a main character in Sago Mini
Appearance
Edit
Harvey is a brown dog. He has a dark brown nose, brown ears and 3 spots on his back.
Games that he appears in
Edit
Sound box: Harvey the list of sounds, he is on the icon for the dog sounds. and when you tap and hold a ball while playing with the sounds, he will come out.
Pet cafe: He his on the icon and home screen, and when you press play, he is reading a menu. He also appears in all activities. In put the food in the proper places activity, he will spin and say "oh." When he eats something he likes he will bark. If he eats something spicy he will say "woo" sweat, smoke will come out of his ears and he'll say "arf." If he eats something he dosen't like, he will squint alittle, stick out his tongue and say "bleh." If he eats something sour, he will pucker his mouth, squint and say "woo."
Doodlecast: He appears on some of the pages.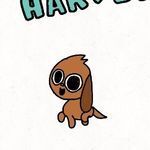 Forest flyer: He is having a picnic under a cherry blossom tree and he gives Robin a yummy snack to eat.
Ocean swimmer: He is on a diving board. He jumps off it and into the water.
Music box: he appears on the icon. When you play with him, he is driving a boat in the ocean. You can eat on the islands, ocean, and sky to make stuff appear. The song is Row row row your boat.
Boats: He is the star of this game.
Space explorer: He is also the star of this game. He lives in a house in outer space.
Friends: He is one of the playable charcaters in the game.
Road trip: He appears on the map of places to go.
Fairy tales: He is in a tall tower, this time he has a long blonde wig. It's not that long as he tries to comb it down. Jinja uses her magic wand to make him a new hairdos such as an Afro, a hairdo with a bow, or long pigtails and he likes it. 
Toolbox: You can build him a doghouse, a desk with a laptop and more. 
Superhero: He and Kiki are fighting over a cake. The cake flies into the air! Super Jack uses his super eye laser beam to cut the cake into two pieces. One piece for Harvey and one for Kiki.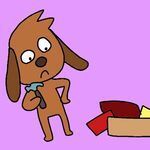 Babies: He is one of the playable charaters, and he's a puppy.
Trucks and diggers: When you tap on one of the tools to gather dirt, he might appear in it.
Robot party: Same as Space explorer and boats.
Babies dress up: He is again a puppy, and you can play dress up with him.
Planes: same as friends.
Harveys birthday is July 11th
Harvey lives with his grandma and aunt in a house.
Harvey is 10 years old.