Robin is a main character in Sago Mini. 
Appearance
Edit
Robin is a pink bird. She has a red belly, 2 pink wings, 3 little pieces of hair on her head. And a red beak.
Games that she appear in
Edit
Sound box: When you tap and hold on a ball, she might come out of it.
Bug builder: She only appears on the icon and the home screen.
Pet cafe: When you press the play button, she is cleaning the smoothie machine. She also appears on all 3 activites. In the put the food in the proper places activity, after Jinja eats, Robin appears. When she eats something she likes, she will giggle. If she eats something spicy, water will come in her eyes and she will cough. If she eats something she doesn't like, her eyes will close alittle, she will touch her hips and say "bleh." If she eats something sour, she will squint, pucker her face and say "woo." 

Doodlecast: She appears on some of the pages.
Forest flyer: She is the star of this game. She lives in a little house.
Ocean swimmer: She is resting on an island with a straw hat on. If you go near her, she gives Fins a coconut with a straw. 
Monsters: Same as Bug builder.
Space explorer: She comes out of a giant robot egg.
Friends: She is one of the playable characters. 
Road trip: She appears on the map of places to go.
Fairy tales: She is in a tree with a picnic basket. 
Toolbox: She appears on the game icon and is one of the charcaters in the game. You can help her build a dollhouse, a rocking horse, and more.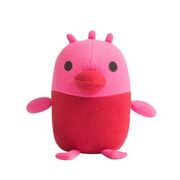 Boats: Same as road trip.
Babies: She is one of the playable charcaters. And she's a baby bird 
Superhero: she is sleep standing (which means you fall asleep while standing) Uh oh! Robin dosen't know a giant shoe is hanging off a hook and it will fall on Robin if it falls off the hook if she doesn't get out of the way. But Super Jack saves her and wakes her up by pushing her out of the way just in time and Robin is happy. 
Trucks and diggers: When you tap on one of the tools to gather dirt, she might appear in it.
Babies dress up: Once again as a baby bird she appears in this game. And you play dress up with her.
Planes: Same as friends.
Robins birthday is April 9th
Robin lives with her dad and her older brother Jasper in a house.
Robin is 4 years old.